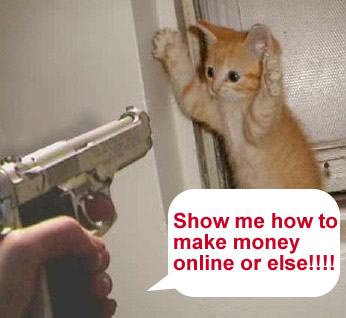 As most of you already know, there are many ways to make money online, not just with paid online surveys. I outlined this in my blog post about how people are going to be making money online in the year 2012.
Today, I wanted to talk about a few different websites that provide a ton of free information on other ways to make money online. They aren't per say, places to go to make money online, but are educational resources that will be very valuable to you if you take some time to really read, ponder, and execute the tips provided.
John Chow is one of the original "make money online" gurus and has been teaching others how to make a living from the internet for many years now. He dedicates a ton of time each day to craft very informational blog posts that are easy to digest and very actionable. One thing I really like about John is that he uses a lot of pictures and videos to teach. It makes is much more interesting and holds my attention for much longer. He is truly a great resource!
John Cow is kind of a rip off of JohnChow.com. Although he is a ripoff (by rip off, I mean riding on the fame of John Chow), he still provides a ton of great tips and information for the average guy or gal trying to make ends meet by earning money online. This John hasn't been online as long as Mr. Chow, but his focus is a bit different, mostly focusing on blogging, SEO, PPC, and other ways to make your money. Definitely a resource that you need to check out today.
The Keyword Academy is a community run by two individuals, Courtney Tuttle and Mark Butler. These guys are really smart dudes and I look up to them a lot. They take a different approach to the whole making money online game. Their business model and site is dedicated to helping people learn how to start "mini sites" or blogs online, filled with lots of very targeted content, and supported by paid ads. These are sites that are should sustain themselves over time and help you earn a recurring revenue stream. I've actually done a few of these types of sites myself, and they are a great way to earn some extra cash. If you have a few minutes, I would definitely check them out.
I hope that this post has been helpful for you. If you have other ways that you like to make money online, please share in the comments below.