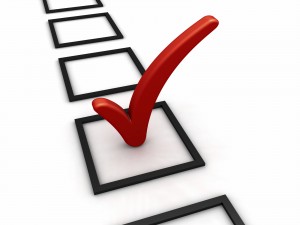 If feel like I'm a bit at risk writing this post since it is not a post for those interested in taking paid surveys, which is the majority of my regular readers… Sorry guys and gals.
This post is for anyone interested in conducting your own survey research and wondering how to get started. I envision this post being extremely relevant for students studying marketing research and probably small businesses with small marketing budgets looking to collect some data before they create or revise a product or service line. So let's get started…
Thanks to technology, do-it-yourself marketing research is definitely possible and you can do it on the cheap as well. Online survey and poll tools make it super easy and affordable for businesses, small and large to engage with their potential and current customers to gather important data about their current and future products and services. Here are some quick tips to help you get started with your own marketing research campaign:
Create an Objective
Before you can begin your survey research, you need to start with a clear objective on why you are conducting your research and what decisions you will make once you are able to collect your data. Once you have an objective in place, it will be much easier to help you craft the right questions and collect the right data to help you make those tough decisions about where to take your business.
Write Your Questions
After you have a clear objective, you need to start mapping out your questions. First and foremost, you need to make sure that each question you ask has a purpose and have a definable objective. Once you have all your questions, you should ask yourself, "will I be able to take action based on the information I receive?" If the answer is no, you should throw out the question and replace it with a better one.
While you are putting together your questions you should also consider secondary data, if you have it. This is data that has already been collected for a different objective. Take a look at your existing data sources that you currently have like customer profiles, purchase patterns, sales data, and customer service calls. You may find that you already have the answers you need in these reports, or you may find that you have not thought of some questions you need to be asking. Secondary data is money if you have it.
Load Your Survey
Once you have your questions finalized, you need to load them into a survey software. There are many free survey research software out there like Survey Monkey with make it very easy to create your survey and administer it to your target audience. If you want to go with a higher end survey research software, you use a tool like Qualtrics. Both are great and both have their advantages, you will just need to figure out what you need and go for it!
Begin With Current Customers
Now that you have your survey ready to go, you should plan on launching it to your existing customers base. Most often than note, these people are your advocates and will tell it like it is. If they would like to see something changed in your current product or service offering, they will let you know. They will also let you know about what they think about new product or service ideas. Tap this resource or you will be sorry!
Once you have completed this, you can begin to reach out to others in your target demographic by tapping into social media hubs like Twitter, Facebook, LinkedIn, and others.
Tap Into Social Media
If you have a social media presence, you need to use it like your own personal survey research panel. Putting your survey through Twitter, Facebook, and other social hubs can offer incredible insight and often reveal some surprising results.
If you don't have a social media presence, you can purchase some cheap advertising on each social network to help spread the word about your survey and get the data that you are looking for. We aren't experts when it comes to purchasing ads on the social networks, but this post on Top Rank Blog and also this post on The Next Web are awesome posts to help get you started.
Here are a few great tips to help your survey take off on the social networks:
Include a short message about the survey within your tweet, update, etc.
Include an incentive such as "win a gift card for a completed survey", etc.
Send your survey out on more than one occasion for maximum exposure.
Use a link shortening service like bit.ly to shorten your survey URL and track the number of clicks you receive.
Ask your friends and family to send it out to their following.
Send a final reminder message like, "our survey ends today, results to follow".
Analyze Results
After you have collected enough data, you're probably wondering what should you do with your findings? You should first look for patterns, trends, and potential holes in what is and isn't being offered by you and also in your market. You should write down all of these findings.
Next you need to take feedback and listen to your customer's or potential customer's perspective. You should identify products that are currently not available in the marketplace, but are desired. You should add, subtract, and tweak your products or services until it meets the needs of your customer to the best of your ability. The final result? Happy customers who continue to do business with you and also tell all their friends and family about you bringing in additional revenue that adds to your bottom line.
So there you have it… Marketing research is a vital component to every business and marketing strategy. If you do it well, it can be extremely beneficial to developing and maintaining a solid relationship with your customers and give you vital insight to make better decisions regarding your products and services.