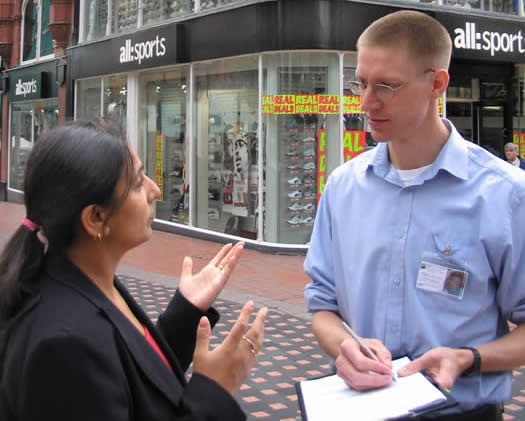 If you do a search in Google for the word "paid surveys" you will find some negative information regarding them. I think a lot of people talk poorly of paid surveys simply because they don't understand where they came from. They think, there is no way someone would pay me for my opinions… this is far too good to be true. I think they might also talk poorly because they have had a bad experience with one of the companies who offer these surveys. Let's face it, we all have bad experiences every day, I even had a bad experience today at Wal Mart, this doesn't mean that Wal Mart is a scam, does it? If that were the case, every company, online or offline would be a scam. It just simply can't be.
My goal in this post is to try and help everyone understand where paid surveys come from and why they are a legitimate way of making money on the internet.
I studied marketing research a lot when I was in college and it really has a fascinating story that all started in the late 1920's. The idea of marketing research was developed by a man named Daniel Starch. During this time, advertising was just barely getting its start in the United States. The process of advertising back then was a lot different than it is today. At that time, copywriters would write what they thought an ad should be, publish the ad, and then they would hope that their readers would like the ad and then act upon the information provided.
A few years after advertising started, Daniel Starch came up with a theory… in order for advertising to be effective, it first had to be seen, read, believed, remembered, and then acted upon. Shortly after he developed this theory, he developed and launched the first marketing research company that would poll people in the streets. He would stop people and ask them if they read certain publications. If they did, he would then show them the magazine and asked the people if they remembered or recognized any of the ads found within them. After collecting this data, he then compared the number of people he interviewed with the circulation of the magazine to figure out how effective those ads really were. This was pretty much the birth of surveying also known as marketing research.
As the years past, many marketing research companies began to emerge. They would follow Daniel Starch's example of polling people in the streets and over time, they worked to improve his techniques. Some time later, a man by the name of George Gallup developed a system that rivaled Starch's system, it was called the aided recall. This system was different in such that is prompted people to recall the ads seen in publications without actually showing them the ads. This system went on to help measure the effectiveness of radio and television ads, not just ads in printed media.
In the late 1980's, a Utahn named Ronald Lindorf founded what would grow to be the largest marketing research companies in the USA. This company was named Western Wats. What made Western Wats and grow at a rapid pace was the leveraging of current technology, the telephone, to conduct survey research. At this point there was no longer a need to go out on foot and interview people in the streets. Representatives in a call center, or in the beginning, Mr. Lindorf's basement, can collect all of this data by simply making a telephone call. Because of this great efficiency, the number of surveys collected each year could help businesses really gain an understanding of their target market and ultimately improved the marketing research model again.
Over the last ten years, marketing research has taken yet another lengthy stride in terms of how data is collected. Yes, data like this is still collected via survey research, however, it is mostly collected via online surveys that are emailed to their recipients. Western Wats (renamed to Opinionology and recently merged with SSI) is now one of the largest marketing research firms in the world and collects a fair amount of their data via their online survey panel called Opinion Outpost (one of the companies we endorse at MDX Research).  Instead of their agents having to cold call individuals, anyone interested in participating in these surveys can sign up for free to receive them and freely share their opinion. This method of collecting data is much less intrusive and the quality of data collected is much higher since people can participate on their own schedule.
So the last question is, where do these companies get the money to pay for completed surveys. It is actually quite simple, Fortune 500 companies all over the world, pay these online marketing research firms to collect the data. In turn, these firms "spiff" their participants with a monetary incentive for a completed survey. Each survey is typically worth a few bucks up to $15 or so. I've even completed a survey worth $50. It took about two hours, but well worth it.
I hope this helps you understand how paid surveys came to be and why they are legitimate so you give them a chance. It will be very interesting to see what marketing research evolves into over the next 5-10 years. Whatever it ends up being, I'm positive that it will be easier to collect and there will be more paid survey opportunities than ever.
If you are interested in getting started with paid surveys, we recommend starting with the following companies: Opinion Outpost and Global Test Market. We also recommend signing up for our 100% free, ten step email training to help you learn how to maximize your earnings from paid surveys. You can sign up here.