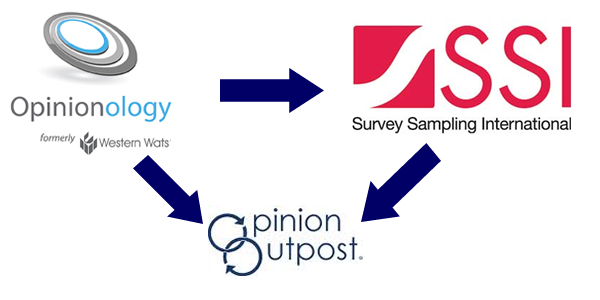 I'm not exactly sure where I've been over the last few months, but I was on LinkedIn last night and saw that a an acquaintance of mine who used to work for Opinionology (Opinion Outpost) now worked for Survey Sampling International (SSI). At first I wondered if he left Opinionology and went to work for a competitor, but upon further research, I found out that the two biggest marketing research organizations in the world actually joined forces to create the largest and most powerful marketing research company on this planet.
The companies received approval to merge in July 2011 and Opinionology merged into the SSI brand. Their goal was to create the most innovative and comprehensive marketing research organization by collecting survey data via phone interviews and online survey panels. They also have offices in every time zone so they can provide world class support to both their research clients and survey respondents 24/7.
For many survey takers, the question has been asked, what is going to happen to Opinion Outpost? As of right now, it will continue to run as Opinion Outpost, but under the brand SSI. They recently underwent a site redesign to make the look and feel more in line with the SSI brand, but nothing has changed other than increasing the number of paid survey opportunities as they are now able to tap into SSI's client base.
If you have ever been thinking about joining Opinion Outpost, now is the time!
You can read the full press release of the Opinionology and SSI merger by clicking here.