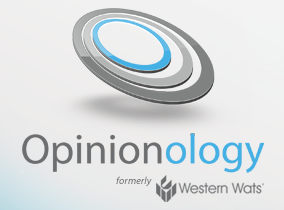 Western Wats, parent company of Opinion Outpost, one of our paid survey companies, has changed their name to Opinionology. Nothing different has changed within the organization, just the name.
Here is what David Haynes, Opinionology's CEO, has said about the new name and why the change:
A NEW DAY IN SURVEY RESEARCH IS HERE.
I'm pleased to announce the launch of our new company name, Opinionology. This marks a significant milestone in the history of our company. It's more than just a name change. In every part of our organization, we have improved the way we conduct survey research. From expanding our online panels worldwide to opening a service bureau in Canada to growing our operations in the Philippines, we've become more focused than ever on being the best place for researchers to go to gather opinions.
Why we have a new name?
We've been operating under the name Western Wats for over 20 years and the decision to change our name to Opinionology was not taken lightly. We've worked hard to build a brand that stood for hard work and a gritty determination to get the job done right the first time—every time. We've truly become the place our clients can turn to for "Data collection you can trust. Partners you can rely on." Those aspects of our company will not change, but the name Western Wats no longer adequately describes who we have become. Back when we started, "Western" meant we were located in the Western U.S. and "Wats" stood for W.A.T.S. telephone lines (remember those?). Now we're a worldwide company with operations and services that span the globe. We also collect more opinions online than via telephone. It's time for a new name that better reflects who we are and that name is Opinionology.
What this means for you
For most, it will be business as usual. You'll just hear, "Hello, welcome to Opinionology" when you contact us. But we've also used this rebranding as an opportunity to refocus ourselves and renew our commitment to this industry and our clients. Over time, you'll start to notice some differences, like our "opinionologists" finding smarter methods of doing things or us leading the charge to become more socially responsible in the way we treat respondents to ensure we have a renewable resource for gathering opinions. You'll see an uncompromising approach to ensure we deliver reliable, actionable data so you can get the deep insights you need. You'll feel even better served as we implement 24/7 worldwide coverage over your research projects.
Please join me in celebrating how far we've grown over the last two decades. We have a strong vision for the future and this event marks the beginning of many great things to come.
Warmest regards,
David Haynes
CEO
Opinionology
Here is the official press release: https://www.opinionology.com/docs/whatsnew/press/Western_Wats_Is_Now_Opinionology.pdf
As always, Opinion Outpost is one of our highest recommended paid survey providers on the internet. We recommend that you take this opportunity to sign up with them right now and start making money today!